We stand shoulder to shoulder with patients,
families, researchers, nurses and clinicians
The Perth Children's Hospital Foundation Ambassador Program exists to share the inspiring stories of the patients and families of Perth Children's Hospital.  These stories recognise the bravery and resilience of our families, inform Foundation supporters of the world-class research, equipment, expertise and training and positive patient experiences we fund and promote the ongoing efforts of the hospital to care for the sick kids of WA.
We recognise that every family's story is unique. When asking our donors for funds for complex medical equipment, ground-breaking research, world class expertise and training and positive patient experiences, hearing the stories of families who are benefitting is a very powerful tool. By sharing your story you can help us to:
Provide real examples of how the money we raise is put to use to encourage further corporate and community support for WA's world class paediatric hospital.
Help other families who are undergoing medical issues who may feel alone and afraid of what the future may hold.
What does being an Ambassador involve?
We are mindful of the time pressures for families – especially those facing medical challenges with their children. You can be involved in as much or as little as you like!
We would love to have a chat about your family's journey so we can tell your story. Personal photos of your child's journey to accompany your story are very powerful, so we may ask you for some.
We may also organise a professional photographer and/or videographer to take some beautiful pictures or video of your child and family to use with the story. During this photo/video shoot, we may ask you to interact with your clinicians or record your child undergoing treatment here in the hospital.
You will have final approval of what information we share with our supporters.  An example of the type of images and stories that we have used in the past is included over the page.
There are a range of platforms that stories can be used for, including fundraising campaigns and proposals, media, the Foundation website, Annual Report, social media, marketing collateral (such as posters), and profiles for specific pieces of equipment.
You may be asked to speak at events, be an Ambassador spokesperson for an event or appeal or appear on marketing collateral as the face/story of a Foundation campaign.
As a thank you for sharing your story, you will receive invitations to specific ambassador events, such as the Dreamnight at the Zoo, shows such as the Wiggles, sporting events such as AFL games or a day out on a boat, fishing or cruising the Swan River. We know that your family often miss out on activities such as these due to your child's medical needs, so to be able to provide memories to our families is very important.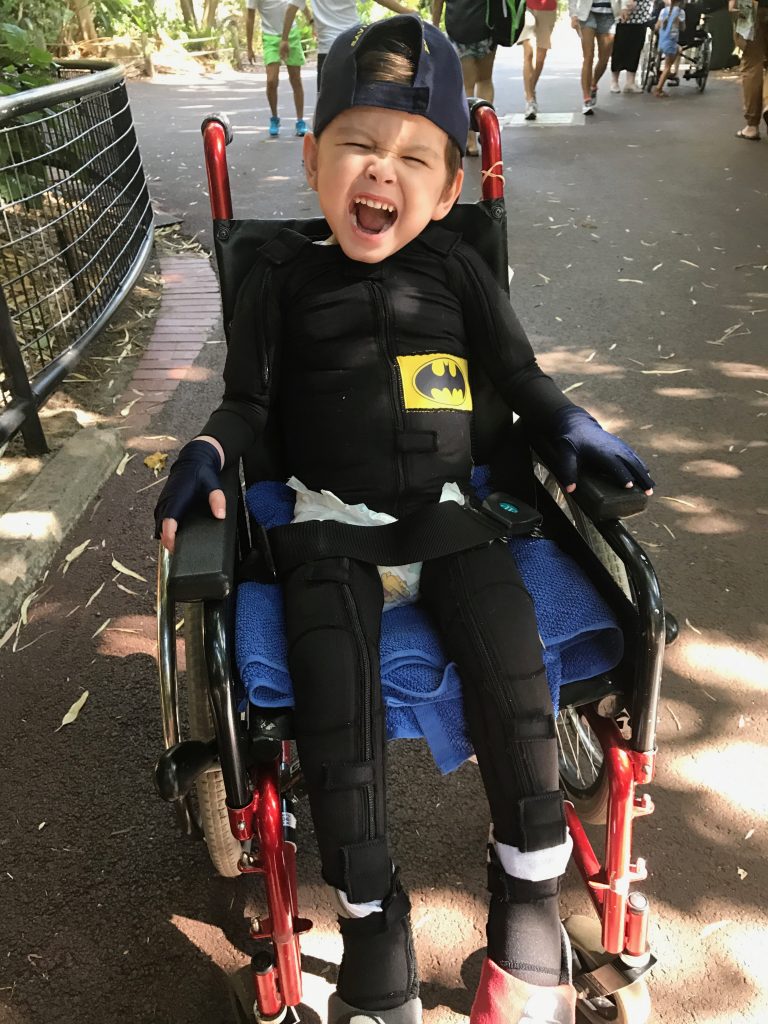 with one jump, romeo's life changed forever.
Late last year Romeo and his twin sister Isabelle were enjoying a family visit to Jakarta with their dad, Lochlan and aunt, Kirrianna. Splashing in and out of their hotel pool and having fun like typical three year olds, no-one could have foreseen the tragic events that were about to unfold.
The lift doors opened directly onto the pool deck and Romeo, like he had in previous times, dashed out towards the spa and jumped in. But this time, something was terribly wrong. The spa thermostat was broken and the water was at boiling point. Immersed up to his neck, Romeo immediately started screaming at the top of his lungs.
Acting on instinct, Lochlan grabbed Romeo and threw him into the cool water of the adjoining pool. His aunt, Kirrianna, jumped in after him and held him as gently as she could as he shrieked in excruciating pain. They managed to get him out of the pool and under a shower, trying desperately to prevent a life-threatening burn injury.
Romeo sustained burns to 80% of his tiny body, from the neck down.
His grandmother Katherina explains the anguish of being miles away in Brisbane and feeling helpless. "I just kept wondering how Romeo would survive", Kathrina said, her voice wavering.
"I was told that his whole body was burnt, that he couldn't stop screaming, that his skin was just falling off. And I couldn't do anything.  My heart has breaking for both my son and my grandson who were so far away.  It was terrible having to wait until Lochlan could find the time to make a quick phone call to update me."
Romeo's biggest challenge was infection. The family knew that the best place for Romeo would be at PMH, under the care of Professor Fiona Wood and her amazing team.  The made the decision to relocate from Brisbane to Perth permanently so Romeo could receive this world-class care he deserved.
Romeo arrived at the PMH Burns Unit four days after his traumatic accident. For the next two months, he had a family member by his side 24 hours a day, seven days a week. His grandmother, Katherina, once again takes up the story.
"Romeo was never on his own. It meant that we each slept in a hospital recliner chair, but that was fine. The burns team were there with us every step of the way. They explained everything to us, from the battle Romeo had with infection, to the burns and scars and the treatment he was going to receive. No question or concern we had was ever considered too small or too stupid. The burns team's expertise is so very important. These children would be in a far worse condition and suffer horrendous scarring, without them".
"The fact of the matter is the world class skills of the burns team at PMH saved Romeo's life."
Romeo spent an extended period of time in bed, unable to move without pain and he had to learn to balance and walk again and lift his arms above his head.
"It was so hard to see Romeo struggle. He didn't want to get out of bed because he thought it might hurt. We had to work hard with him and his physiotherapist and occupational therapist to get him moving again. The whole process made him very anxious. Even though he cried and begged not to do it, we had to push him," Katherina explained.
The expertise of Professor Fiona Wood and her team meant that Romeo was able to leave the hospital for day trips over Christmas, only seven weeks after his accident. He was able to celebrate this special time of the year with his family, wearing his custom made superhero compression suit. Shortly after Christmas, Romeo was discharged. He still attends the hospital as an outpatient and will receive medical care for many years to come.
Every six to eight weeks, Romeo receives special laser therapy on his burn injury. The Lumenis Carbon Dioxide Laser was funded by Foundation supporters and has become an integral part of burn treatment at PMH. This equipment helps smooth out raised, lumpy or itchy burn scars and therefore improve day to day movement. It is a relatively simple procedure, allowing Romeo to receive treatment and go home on the same day. It will also eventually reduce the need for compression garments.
Little Romeo faces many more years of treatment for his burn.  On-going laser treatment, painful skin grafts, physical therapy and countless outpatient appointments to monitor his progress.  Along with counselling which both Romeo and his twin sister Isabelle have been receiving since the traumatic accident.
Further research is central to minimising the damage caused by burn injuries, particularly in children like Romeo who have a lifetime of painful treatment ahead of them. Funding this research is vital as it will enable Professor Wood and her team to discover new and improved ways of healing the devastation of these injuries.
When little Stephanie first started vomiting, her parents thought she had caught an everyday childhood bug that would clear up in no time.
But when she continued to be sick every morning, her increasingly concerned parents took her to their local doctor on several occasions to find out what was wrong.
After the family's GP couldn't offer a solution, Stephanie's parents – Natasha and Darren – took her to the emergency department at Midland Hospital where she was given a CT scan, which revealed the devastating truth that their five-year-old daughter had a brain tumour.
After being rushed to Princess Margaret Hospital and undergoing an MRI, it was only four days later – on 17 July 2016 – that Stephanie underwent brain surgery to remove what turned out to be the majority of the tumour.
What followed over the next six months was various rounds of radiation and chemotherapy treatment all of which, according to her mother, Stephanie has taken in her stride.
"Following surgery she couldn't walk, drink, eat or do anything for herself, she pretty much just slept and we weren't sure if she would make it through," says Natasha, who's younger daughter Amanda is just turning three years old.
"But she has been really amazing and so strong throughout her treatment, we're extremely proud of her."
"The support we have gained from the team at the hospital, particularly Ward 3B, has been incredible," adds Stephanie's father Darren.
"We couldn't have been as strong for Stephanie without the wonderful support of the staff in the oncology ward, particularly Dr Nick and all the other surgeons, they've been brilliant and we have them to thank for keeping our little girl alive.
"We'd also like to thank the amazing social workers who have been there for us as well as the Perth Children's Hospital Foundation and in fact all of the people who donate to the Foundation's various fundraisers. With everything we have gone through we realise the hospital is incredibly supported by the Foundation and the funding it provides is invaluable."
Although Stephanie still has a fourth term of chemotherapy to go, her parents are hopeful that she may return to school during the second term of 2017. When she does, her little sister Amanda – Stephanie's greatest fan – will be even prouder of her big sister.
"We have always felt that to enable our daughter to stay strong throughout her treatment, we've had to remain strong ourselves, and so our way of dealing with things has just been to take everything day by day," adds Natasha.
"We really can't thank all of the medical and nursing team at PMH enough, their care and dedication for both Stephanie and our family has been beyond anything we could have hoped for."
Nicola and Steven's twins, Harper and Arthur, made a dramatic start to life 15 weeks premature. Rushed to the Neonatal Intensive Care Unit at Princess Margaret Hospital, they have been receiving around the clock care.
When Nicola woke on the morning of 8 December last year, 24 weeks and five days into her pregnancy, she had a slightly uncomfortable, low level pain, but didn't think much of it.  Within hours she was on a Royal Flying Doctor flight to get her from the couple's home in Broome to King Edward Memorial Hospital in Perth.
"When I left Broome, neither Steven or I realised the boys were going to born so early," explains Nicola.
"Me being in Perth and Steven sitting on our bed up in Broome while the Anaesthetist held up my phone so he could be a part of the birth wasn't how I had imaged we would become parents."
Steven flew down to Perth the next morning to meet his sons.
Being 15 weeks premature, both the boys were born with a number of health problems.
Harper's main problem was that he contracted a very tough bacterial infection that affected his already compromised lungs.
"The infection then spread to his blood stream," explains Steven.
"It was literally being pumped around his whole body.  He had a number of blood transfusions and spent eight of the first nine weeks of his life on really strong antibiotics to get rid of the infection."
"Most babies have a single medical chart that may only be half filled.  Harper had three charts on the go and all were completely filled with notes and observations from his doctors and nurses.
"But he's a fighter.  One of our big highlights came 112 days after the boys were admitted to PMH.  It was the day we were allowed to take Harper off the ward for a few hours.
"Our first outing as parents was to walk up to West Perth.  We got some lunch and went to a little park for a picnic.  Such a simple thing, but to us it was magical.  We only wish we could have taken Arthur with us as well.
"I cannot begin to describe how amazing the PMH team are.  Every single doctor, consultant, nurse and member of the team has done so much for the boys, Nicola and me."
Whilst Harper is growing stronger, Arthur has struggled a little more.  He had a massive bleed on his brain when he was born which caused swelling and led to a condition where cerebro-spinal-fluid (CSF) builds up in the ventricles, or cavities, of his brain making them enlarge.  This puts enormous pressure on his brain and causes further bleeds in his left ventricle.
Steven explains Arthur's treatment.
"Doctors had to put a needle into Arthur's brain to draw out the excess fluid to relieve the pressure.  This happened every day for about two weeks.  The whole time Nicola and I were so worried about him getting an infection like his brother did, but on his brain.
"Thankfully the team are so experienced.  Every time they withdrew fluid it would be checked, so while we would have a nervous few hours, we were always reassured when his results came back clear of infection.
"The hope was things would correct themselves and Arthur would start draining and absorbing his CSF as normal.  But that wasn't the case.  His Neurosurgeon tried a couple of other things, but in the end, had to insert a shunt to ensure fluid drains as it should."
Arthur's shunt surgery went well and Steven and Nicola finally felt like they had cause for celebration.
"Our celebration was pretty short," explains Steven.
"We arrived at the hospital to find about 15 specialists, nurses and consultants around Arthur.  The swelling on his brain had increased again and he started having seizures.  The doctors also suspected he was going into renal failure as he wasn't passing urine.  Then to top it all off, we were told he had a hole in his heart.  The poor little mite was on morphine to manage pain.  It was heartbreaking and terrifying.
"The doctors slowly and patiently explained what was happening and went through a range of treatment options with us.  It seemed that each condition was affecting the other.  It was all really difficult to take in and understand.
"All we knew was the doctors were doing everything in their power to save our boy.
"There have been several times that we thought we might lose Arthur.  He would do really well for a few days, then suddenly take a turn for the worse.  Every time that happened, the team dove into action and bring him back to us.
"Given all we have been through, we live in the now.  When family and friends ask us how the boys are doing, we say something like 'they are doing ok right now'.  There were times when we said they were having a good day, then things changed suddenly – literally in the space of a few minutes.  So 'now' is where we live these days.
"Right now, Harper is doing great.  We have been able to take him out of the hospital and spend time in our little apartment.  As exciting as that is, the shine is taken off as Arthur is still in hospital.  But he is a fighter too and is getting stronger every day.
"We don't know what all of Arthur's medical problems mean for him.  It is possible he might have cerebral palsy.  He could be blind in one eye and there is also a chance that he may not speak as one side of his vocal cords is paralysed at the moment.  But there's a chance that with time all of these issues could correct themselves.  It's really a case of wait and pray for the best."
You can help children like Harper and Arthur by making a donation today.