Lareia was born with Biliary Atresia, a condition in infants where the bile ducts inside and outside the liver are scarred and blocked. Bile can't flow through into the intestine, so bile builds up in the liver causing damage. The most effective treatment for this condition is a liver transplant.
First time parents Elyse and Errol were living in Kalgoorlie at the time Lareia was born. When she was a few weeks old they were told they were rushed to Princess Margaret Hospital in Perth. Not long after they arrived, they were told they would have to fly to Sydney as Lareia needed surgery that was not available in WA.
Lareia was only a couple of months old when she had her first operation, a surgery called the Kasai Procedure whereby blocked bile ducts are bypassed to restore normal bile flow. After spending a few weeks in Sydney, they found out that the surgery was unsuccessful. After one month back in Perth, Lareia had to go back over to Sydney in preparation for a liver transplant. They were sent back to Perth and given a pager, told to have a suitcase ready.
Elyse was pregnant with their second child and they predicted that when Lareia would be getting the transplant would be when Elyse would be giving birth. They decided the best option was to relocate to Sydney while they waited. It was an agonising wait watching as Lareia deteriorated while waiting for the transplant. They found themselves at the hospital almost daily for transfusions.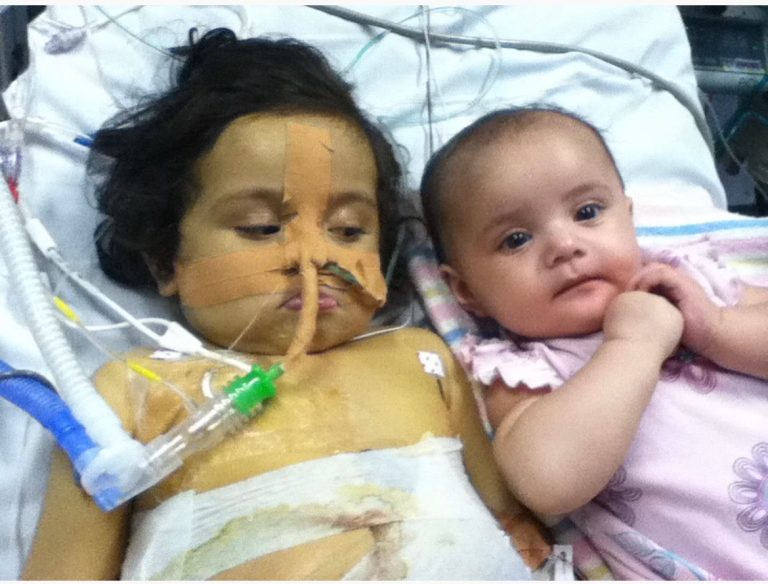 "Having these services here in WA means the world to us. As Errol has a full-time job he can continue to go to work, Lareia's sisters don't have to be taken out of school and I can be in hospital with Lareia and I know she is in great hands which is just amazing. We have a healthy 12-year-old now and it's the best thing we could have asked for."
Elyse gave birth to Lareia's sister Namaira, and a few months later got the call up that they had a successful liver donor. But when she was in surgery, they found the liver was not compatible. Months later close to Christmas in 2010, one-year-old Lareia had a second liver transplant that was successful. This was a relief for the family, and they moved back to Perth shortly after.
When Lareia was 4 years old she was sent back to Sydney as she needed a stent as the bile duct was narrowing and they still didn't have the services they needed here in Perth.
Now 12-years-old Lareia was yet again having some complications with her liver transplant. This time around, with the appointment of Professor Derek Roebuck to the position of the Simon Lee Foundation Chair of Paediatric Radiology at Perth Children's Hospital, Lareia was able to access the services she needed at PCH. In June she had another stent put in as there was scar tissue affecting the main vein going to the liver.
Lareia's mum, Elyse describes her as extremely brave, a massive chatterbox and a bit of a risk taker who likes to push the boundaries. She is happy and healthy and has recovered well from her most recent surgery.
Help support more children like Elyse and support the very best medical minds and life-changing equipment available.