Local motorcycle club the Guardians of Innocence are putting their money where their wheels are to support kids at Perth Children's Hospital.
In November 2015, a couple of mates decided to combine their love and enjoyment of riding their Harley Davidson's, with helping others, specifically kids. They noticed that kids would get very excited when they would hear the rumble of the Harley pull up beside them. They decided they could help children by combining what they love doing – riding and helping kids. Guardians of Innocence hope to bring a much needed smile and lasting memories to as many kids in need as possible!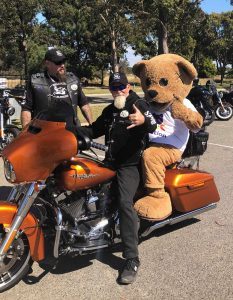 The group held their 3rd annual Charity Ride for Perth Children's Hospital Foundation on Sunday November 4 and raised an incredible $9,019.25!
Guardians of Innocence member and event organiser Danny, detailed the events of the day:
"We held our 3rd Annual Ride for PCHF on Sunday the 4th of November. We gathered in Stratton for the start of the ride and we were lucky enough to have Stitches the Bear join us, we even managed to get Stitches onto one of our Harleys for a little ride".
"From there we headed off to one of our long time supporters at the Noble Falls Tavern, after a short stay there we continued on our ride ending up in Northam at the Riverside Hotel. Whilst there we were lucky enough to meet one of PCHF's Ambassadors, Ryan! He has been through a tough time like many of the kids PCHF take great care of . Whilst there we also managed to get Ryan onto a Harley for a short ride and welcomed him into our Guardians family. As the day was all about raising awareness about PCHF as well as raising much needed funds, we had Ryan help us with the drawing of the raffles and also auctioning off donated prizes".
"It was a great day for a ride and we were supported along the way by over 50 other of Perth's Bikers on the day, who along with donations to the Everyday Hero account and donations on the day helped us to raise an amazing amount of $9,019.25!!!"
We at Guardians of Innocence are honored and very proud to be supporting all the PCHF does and we look forward to continuing this association to give to the children. We are already looking forward to next years ride!
Where the funds are going: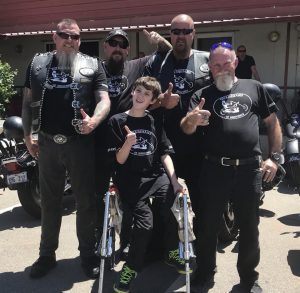 The funds Guardians of Innocence raised will be directed towards the Music therapy program at Perth Children's Hospital. Frequent and long-term patients regularly combat the boredom and frustration that comes with being bound to the hospital.  In order to alleviate this and make a child's and family's visit to hospital as positive as possible, the Foundation direct donations to a wide range of complementary services.
With the support of the Foundation, music therapy has been included in the range of treatments offered by the Neurological Rehabilitation Service at the hospital.  Since its introduction, the Allied Health team have charted significant improvements in motor, communication, language and cognitive skills of patients.  Music Therapist, Karen Twyford, explains that music therapy also helps the emotional rehabilitation of many children.
It is very distressing for families to see their children, who may have been perfectly healthy, suddenly develop a brain or neurological condition. Music therapy helps give the children a welcome distraction but also gets them to engage with the music and the therapist and leads to further health improvements. It is a wonderful way to engage with children with brain injuries who otherwise might not respond to or interact with clinicians, said Karen.
A huge THANK YOU and Congratulations to the Guardians of Innocence on a another fabulous fundraiser! We look forward to being involved in this terrific community fundraiser for many years to come!