The Euroz Big Walk for Perth Children's Hospital Foundation on Sunday 17 March is a chance for our community to come together, have fun and raise money for sick kids in hospital.
Over the years, the Euroz Big Walk has raised more than $1 million for the Foundation, and it's the ongoing support of the community and fundraisers like Forward Hops that allow us to continue the important work that we do.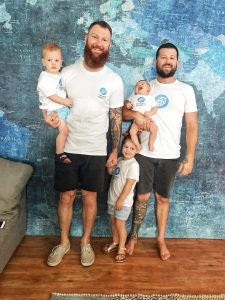 Team Forward Hops is the brainchild of business partners and close friends Pete and Dave, who are participating in the Big Walk and raising much needed funds for the Neonatal Intensive Care Unit that took such good care of their children Lola, 4 and Seb, 3 months.
Both Lola and Seb required resuscitation at birth and were transferred to the children's hospital for specialist care.
"When we were told that Lola had suffered severe brain damage to several areas of her brain, and was unlikely to feed herself, walk or even talk, we were devastated," said Pete, Lola's dad.
"The doctors and staff continued day and night to improve Lola's condition. Within two weeks, our daughter had stopped seizures, was feeding and finally was allowed home! Four years later, our Lola now walks, talks and has just started school! My wife and I feel without the prompt help Lola received at birth and over the years from the hospital, Lola wouldn't be the superstar she is today."
My business partner and close friend Dave, whose son Seb also suffered oxygen deprivation at birth, feel we owe so very much to the hospital and its staff, more than we will ever be able to repay. However, fundraising for the hospital is a fantastic start and hopefully with our help, the hospital can help more children like Lola and Seb.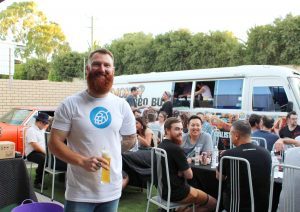 Pete and Dave held a fundraiser in February to help them raise funds for the Euroz Big Walk. 25 people attended the event at Cellarbrations Superstore Hamilton Hill, who donated the space and Smokin BBQ Bus provided food for the evening.  They raised $625 from a beer raffle with beer donated by Cellarbrations Baldivis and Thirsty Camel Kwinana Beach. Pete and Dave expect another $1000 – $1500 to come in from ticket sales from the event.   "It was great to see how many local businesses came on board to help out", says Pete. Dave also commented, "we are pushing really hard to hit our $7,500 target!"
There's still time to register and fundraise for the Euroz Big Walk on Sunday 17 March and make a real difference to the lives of sick children and their families. Visit www.bigwalk.com.au for more information and to register.