Image above: Mariah and Charlie with Great Southern Groodles breeder Vicky and her 9-year-old daughter Charlotte.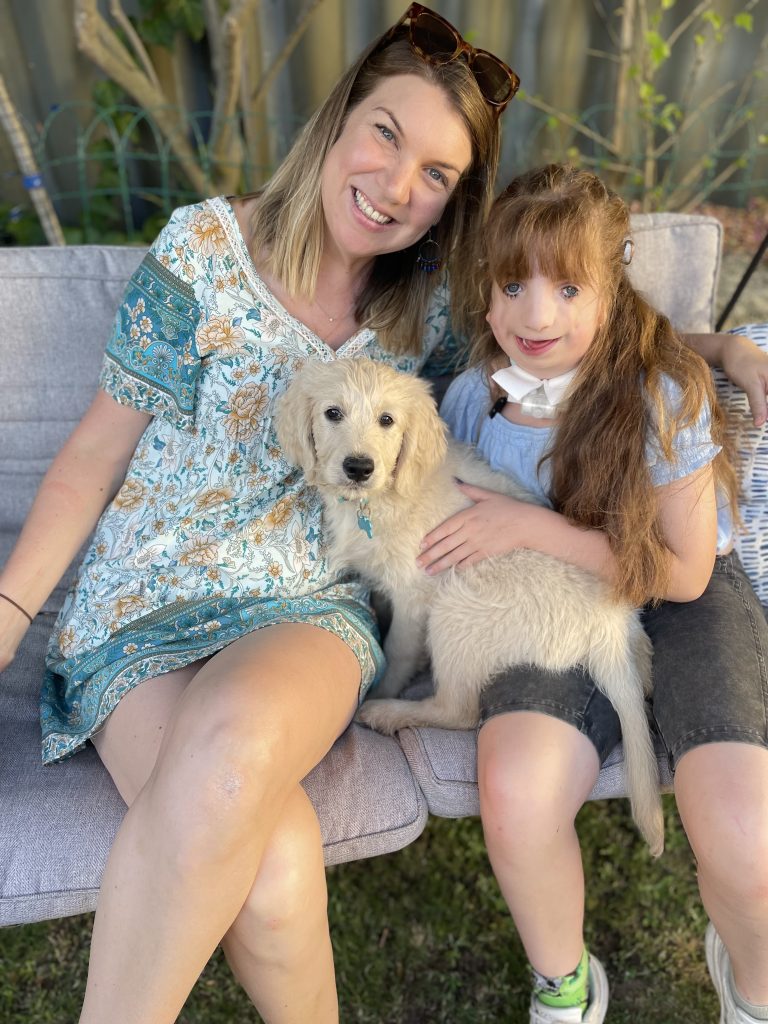 Puppies have a way of instantly melting hearts and nine-year-old Mariah was immediately smitten when she collected her new four-legged friend, Charlie.
"Charlie is my best friend and he's the best Christmas present I've ever had," exclaimed Mariah. 
Living with the rare condition Treacher Collins Syndrome, Mariah has faced many health challenges and endured more than 20 operations in her short life. She has a tracheostomy tube in her neck to breath and last Christmas underwent major surgery to attach screws to her jaw. Morning and night for 27 days, including Christmas Day, Mariah's parents turned the screws so her jaw could grow by a millimetre a day. It was painful and distressing for the whole family. 
"We're seeing a lot of happiness right now which is such a contrast to last year which was hugely traumatic for us", Mariah's mum Emma said. "We're just loving Mariah's interaction with Charlie because he wants to play and have fun and cuddle and snuggle." 

The arrival of the adorable 12-week-old Groodle couldn't be timelier. The family recently received unexpected and upsetting news that Mariah will need to undergo further debilitating jaw surgery, but Charlie is helping put smiles back on their faces this Christmas. 
"It's a big deal for her to go through, very challenging but then the universe handed us a gift! A little friend like Charlie is really going to help her mental health and help her pull through a bit better." 
Charlie was gifted by a very generous dog breeder in the Southern Wheatbelt.
"We have children the same age and I know that not everyone has an easy life, so we're really motivated to give any kind of positivity and joy and share some love at Christmas," explained Vicky from Great Southern Groodles. 
"Our dogs are very relaxed and calm companions giving a never ending amount of love, and we're honoured to share that with Mariah and her beautiful family." 
This Christmas, Mariah's looking forward to endless cuddles and playing with her new best friend. But there are also more purposeful plans for Charlie. Mariah's eager to train him to become her therapy dog, to help her face future challenges that lie ahead.